Newcomers Shine in Win Over Saint-Marc FC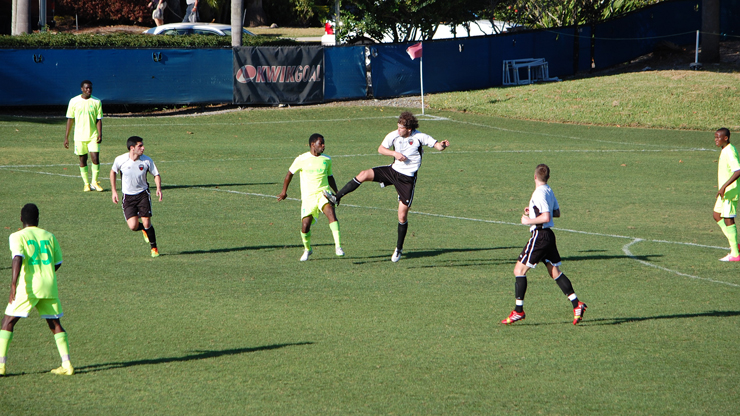 Ottawa Fury FC extended their pre-season unbeaten streak to 4-games (2-0-2) following Wednesday's 4-0 victory over Saint-Marc FC at the KICS International Soccer Complex. It was the newcomers that made a dramatic difference in the first half as Vini Dantas, Maykon Araujo and Hamza Elias all made their debuts. Ottawa were powered to victory by three first half goals - one each from Dantas, Messoudi and Mayard and a second half tally by Tom Heinemann. Marcel DeBellis and Chad Bush split the shutout in goal. Ottawa will next face Floridians FC of the PDL on Saturday, April 5 at 4pm.
It was their first pre-season match since arriving in Sunrise on Monday that would see a very different starting XI from Saturday's 2-2 draw with Syracuse back in Gatineau. Today's starters featured, for the first time, Maykon Araujo, Vini Dantas and Hamza Elias. All three would factor into the offensive work ethic from the Fury on Wednesday. Ottawa's intensity and quickness allowed them to apply timely pressure to the Saint-Marc back line that resulted in several early opportunities. Dantas missed his first chance as did Andres Fresenga and Elias who all made the most of Ottawa's attacking opportunities. Pierre-Rudolph Mayard was a constant threat in the first half producing three scoring opportunities, but was unable to either beat the keeper or find the target. Following a Marcel DeBellis save off a free-kick Ottawa would transition into attack and would be rewarded with a free-kick from 25 yards out. Maykon's delivery was well-timed and met with the head of Vini Dantas as the pair of Brazilians connected to put Fury FC in front 1-0 in the 25th minute.
Ottawa's first half pressure would continue and Drew Beckie saw his header cleared off the goal line. The sustained pressure was a result of quick ball movement when in possession and aggressive ball chasing when Saint-Marc had possession. Midfielder Zakaria Messoudi, who recently joined Fury FC on loan from the Montreal Impact, made the most of his start in midfielder with a dazzling display of footwork as he weaved inside the 18-yard box eluding three defenders before slotting the ball in for his first with Fury FC in the 39th minute.
Hamza Elias would earn another opportunity as the half was winding down, put fired wide of the goal. In the 44th Mayard's hard work would be rewarded as he picked up the ball and made a quick run into the box and while his first shot was blocked by the defender, the veteran winger collected his own rebound a tucked it past the Saint-Marc's keeper as Ottawa would carry a 3-0 lead into the half.
Wholesale changes were made at halftime, but the change in personnel did not change the style. Fury FC began the second half continuing with their high pressure on the Saint-Marc back line and in the 49th minute Mayard would spot halftime substitute Tom Heinemann who rifled home his second goal in as many games.
The 4-0 scoreline seemed to slow the pace of the game down which resulted in more possession for the Florida-based Saint-Marc's side - as side that includes several former and current members of the Haitian National Team. With quick players in their arsenal it forced Chad Bush, who replaced Marcel DeBellis for the second half, to be aggressive in coming to the aid of his defence. Sinisa Ubiparipovic, Nicki Paterson and Heinemann would all earn second half scoring chances, but Ottawa was unable to add a fifth despite their efforts.

With the win, Fury FC remain undefeated thus far in pre-season play with a 2-0-2 record and will next face PDL side Floridians FC on Saturday at 4pm at the KICS International Soccer Complex.

On Friday night, players will submit three names for the captaincy to the coaching staff with the announcement expected to come on Monday morning.